We protect all endpoints in your network, including laptops, desktops, and mobile devices. By employing the latest technology, we ensure that your devices are secure against advanced threats.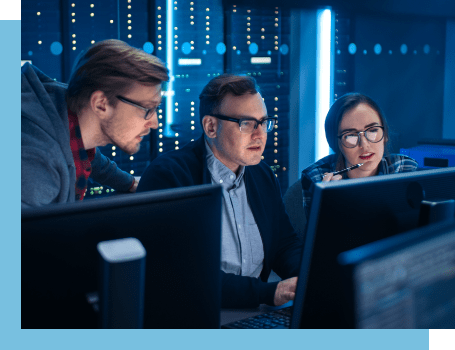 Safeguarding Your Devices from Cyber Threats
Endpoint protection, also known as endpoint security, is a crucial element in defending your network against cyber threats. As the name suggests, it focuses on securing the 'endpoints' or devices that connect to your network, such as laptops, desktops, mobile devices, and even IoT devices. With the proliferation of remote work and Bring Your Own Device (BYOD) policies, the number of endpoints accessing your network has significantly increased, making endpoint protection more important than ever.
IT Authorities Endpoint Protection
Trust IT Authorities to provide comprehensive, expert-led endpoint protection services tailored to your organization's unique needs. Secure your devices and protect your network from advanced threats with our cutting-edge solutions.
Key Benefits of IT Authorities' Endpoint Protection
Imagine an employee accidentally opens a phishing email and clicks on a malicious link, leading to a ransomware infection on their device. Our endpoint protection solution would detect the ransomware activity, block it, and quarantine the malicious file, preventing the spread of the infection to other devices or the network.
Suppose an unauthorized device tries to connect to your network, potentially exposing your network to threats. Our endpoint protection tools would identify the unauthorized device and block its access, protecting your network from potential security breaches.
Imagine an employee's laptop is stolen, containing sensitive company data. Our endpoint protection solution would have encrypted the data on the device, ensuring that even if the laptop falls into the wrong hands, the data remains secure and unreadable.
Adopting our Endpoint Protection is easy
If your organization wants to improve its security posture, reduce its liability exposure, and free up resources, get in touch so we can explain how simple the transition will be.