Business Continuity and Disaster Recovery
iT's Backed Up™ is a complete BC and DR solution for your midsize firm, with automated backups and retrieval protocols that quickly re-establish your business processes after any data loss event.
Engineered to meet your demands for uptime
Your backup software and the people monitoring it have never been more critical to your organization's survival. In addition to technical failures and natural disasters, we are now threatened by ransomware: Criminals can block access to your data and processes until you pay them. If you don't have accessible backups and established data-retrieval procedures, you will be forced to rebuild your network rather than simply restoring it.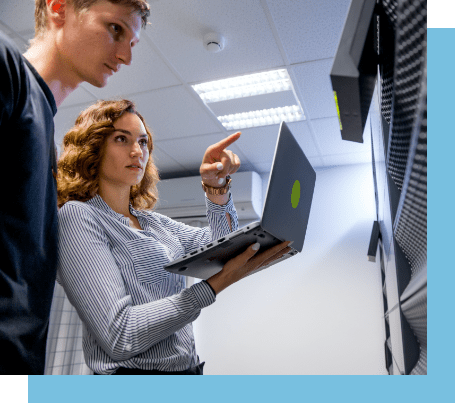 Is your organization asking the following questions?
We reverse-engineer your BC and DR solution based on your uptime requirements.
Our BC and DR service delivers an end-to-end backup and recovery solution that's simple, scalable, and cost-effective – and easily integrated with your on-premises data protection. In the case of service disruption, accidental deletion, or malicious corruption of data, you will be able to recover your business services in a timely and orchestrated manner.
Key benefits of IT Authorities'
iT's Backed Up™


business continuity solution
Put simply, data backup is storing data redundantly – extra copies that can replace the originals if they are unavailable. Disaster recovery is the process of retrieving the backups to replace any lost data. But business continuity is having a system for determining which data needs to be backed up and how often. It also means having a comprehensive plan for restarting the processes that use the recovered data, and getting the people who use the processes back to work. An organization with a business continuity plan can go down with a data-loss event and recover their operations within minutes, rather than the hours or days it may take with only backup and recovery, if recovery is possible at all.
These are parameters used to design an organization's business continuity solution. Recovery Time Objective (RTO) indicates how long systems can be down before there is a serious business impact. Recovery Point Objective (RPO) indicates which data and how much of it can be lost before business operations are impacted. Essentially, they show how much downtime and data loss your business can withstand. Your BCDR plan will ensure those tolerance levels are never reached.
All of your data should be considered vulnerable regardless of it being stored on physical devices or in the cloud, but some data-management practices are riskier than others. The highest risk/lowest security data backups are the ones done with only raw data, on premises, to physical hard drives. The lowest risk/highest security backups are done to geographically dispersed cloud data centers using full server images. Storing data in the cloud on multiple servers ensures it can be retrieved and your business processes restarted after any level of disaster. Saving full server images means complete systems can be recovered without the need to rebuild them. They can also be restarted on new hardware or on virtual machines. 

Note that backup and recovery systems can only ensure business continuity if they are customised to your needs, regularly monitored and tested, and all users are properly trained in storage protocols and the recovery sequence.
Adopting our
iT's Backed Up™

business continuity and disaster recovery solution is easy.