March 8, 2023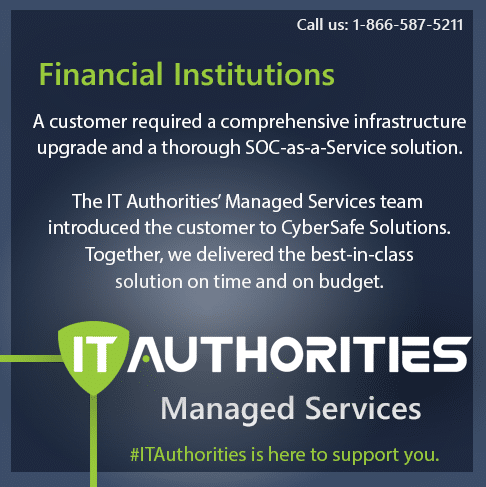 A financial services company engaged IT Authorities to provide comprehensive
Managed Services that included Microsoft, Cloud Services and other solutions. In addition, the customer needed to implement continuous security monitoring services on a tight timeline.
Due to the customer's specific audit requirements,
IT Authorities included CyberSafe Solutions in their offering. This successful
combination delivered the right solutions to manage and protect the customer's environment.
Customer Industry:  Financial Institutions
Customer Requirements:
Upgrade and migrate Microsoft solutions to support corporate goals
Deploy professional services for system networking and accessibility
Cybersecurity for environment protection and audit requirements
Technology to ensure accessibility, software, standards and corporate
policies
Project Overview
IT Authorities Managed Services Solutions
IT Managed Services

Managed networking systems and monitoring
Equipment inventory, licenses, warranties
Technology procurement and planning
24/7/365 service desk, network administration, maintenance
BP365 (OS and email)
Remote and onsite service and support

CyberSafe Solutions
Partner Services

Advanced SOC-as-a-Service for extended detection and response
Monitoring and adjustments to successfuly refine alerts and correlate trends
Gap and audit reporting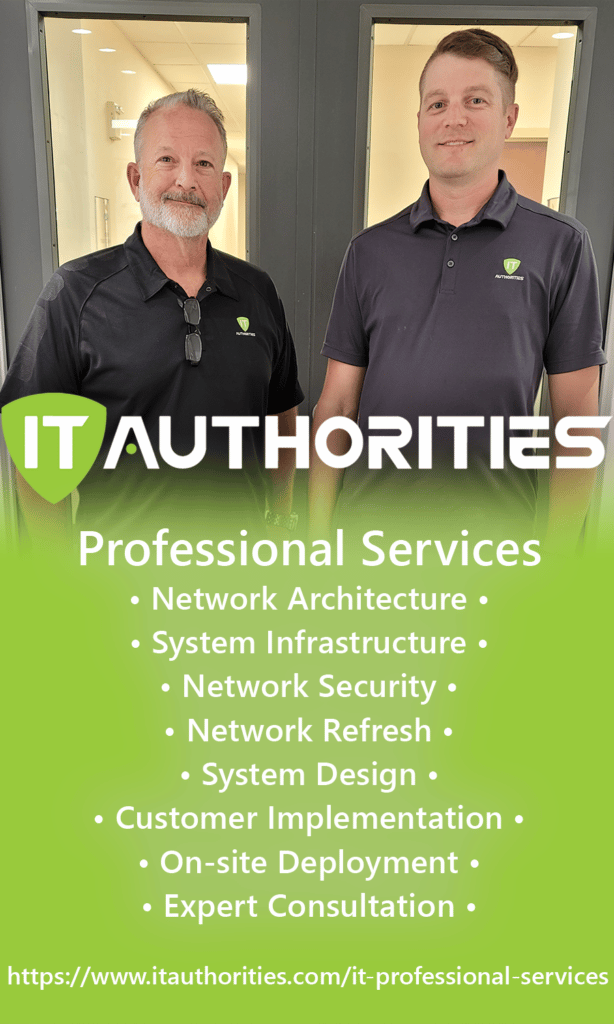 IT Authorities Professional Services customer projects include:
Network design, configuration, implementation and installation of new hardware and software.
Network security and cyber security
On-site implementation and maintenance
Creating new environments to support hybrid, remote and in-person work spaces
Utilizing new hardware from Palo Alto and Cisco Meraki to support secure environments
Cloud solutions migrating infrastructure and systems to Azure and AWS
Implementing Intune Best Practices
Implementing end-point security for today's mobile work force
Defining and Implementing Intune solutions (Microsoft Endpoint Manager)
To schedule an assessment of your network requirements, contact us.
About Our Professional Services Team: Modernize your infrastructure for a more agile, reliable, and stress-free workplace.
Since 2006, our technology service professionals have been simplifying IT with proven methodologies that reduce risk and delays. With our guidance, you'll be able to choose the right technologies according to your organization's budget and needs. Contact our team to start seeing tangible results that align with your business priorities.
#ProfessionalServices #NetworkArchitecture #ITANetworkProtection #Microsoft #ManagedServices
#ITAuthorities is a #WidePoint company.
For a financial customer, IT Authorities and our partner, CyberSafe Solutions, deployed comprehensive managed services and implemented real-time continuous security monitoring services on a tight deadline
For a financial customer, IT Authorities and our partner, CyberSafe Solutions, deployed comprehensive managed services and implemented real-time continuous security monitoring services on a tight deadline