September 5, 2023
by Jason Caras, CEO
In today's digital age, every company, irrespective of its size or domain, relies heavily on IT solutions to function efficiently. As a result, Managed Service Providers (MSPs) have become indispensable for businesses around the world. But here's the catch – while the demand for MSPs has skyrocketed, so has the number of providers jumping on the bandwagon, and not all of them are up to the mark. Unfortunately, many MSPs are expert marketers but lack the substance to genuinely deliver on their promises. 
The scenario often goes like this: a company, lured by the flashy marketing and too-good-to-be-true offers, signs up with an MSP. Months into the relationship, they realize the MSP is out of their league. What follows? Failed deliverables, breached SLAs, escalating costs, and immense frustration. Then, the painful process of hunting for a new MSP begins. 
But worry not. By peeling back the onion layers of marketing versus reality, you can steer clear of such pitfalls. Here's how to discern fact from fiction and select an MSP that genuinely aligns with your needs: 
Understand Your Needs:

Before diving into the MSP market, it's vital to have clarity about what you're looking for. Do you need cloud services? Security solutions? Infrastructure management? Knowing what you want helps in narrowing down your choices.

Go Beyond the Sales Pitch:

A glitzy presentation or a suave salesperson doesn't guarantee expertise. Dive deep into their actual service offerings, case studies, and customer reviews.

Question the Freebies:

Small MSPs often woo clients by promising everything for free or at dirt-cheap prices. Remember, nothing is genuinely free. When an MSP offers services at unsustainable prices, they may compromise on quality, or you might face hidden charges later.

Evaluate Their Technical Expertise:

Request a technical deep dive. Clearly understand their technical prowess. This way, you can gauge their expertise and not just the marketing jargon.

Check Their Scalability:

Your company will grow, and so will your IT needs. Ensure that the MSP you choose can scale with you. The last thing you want is to outgrow them quickly. Have them share documentation and processes they use to scale. 

Verify Their Response Time:

When there's an IT crisis, every minute counts. Ensure your MSP isn't just available 24/7 in theory but in practice too. Ask for statistics on their average response and resolution times.

Ask About Their Vendor Partnerships:

A strong indicator of an MSP's credibility is the company they keep. Partnerships with reputed vendors mean they have access to the latest technologies and can offer you the best solutions.

Scrutinize Their Service Level Agreements (SLAs):

Be wary of MSPs who are vague about their SLAs. A trustworthy MSP will provide clear, comprehensive SLAs and be ready to discuss any customizations you might need.

Research Their Reputation:

Look for reviews online, ask for client references, and engage in conversations on business forums. You'll often find unfiltered feedback that can be immensely insightful.

Understand the Exit Strategy:

Lastly, sometimes relationships don't work out. Understand the process of disengagement in case things don't go as planned. This will save both parties from potential conflicts in the future.


Remember, selecting an MSP isn't just about IT; it's a business decision that impacts every aspect of your company. The goal isn't to find an MSP who merely keeps your systems running, but a partner who adds value, aids in your growth, and is genuinely invested in your success. Don't be swayed merely by marketing; peel back the layers and choose wisely.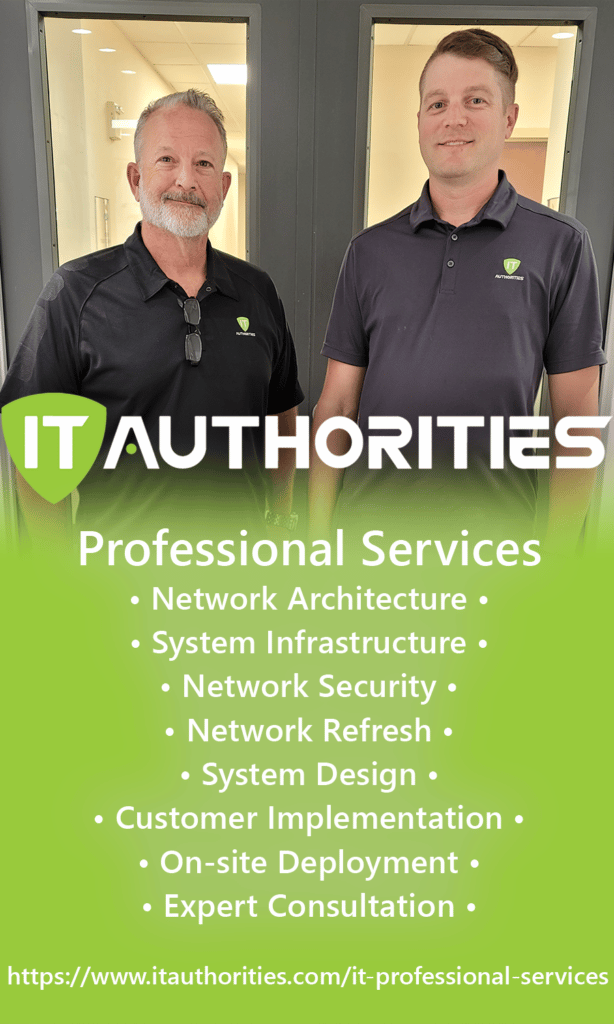 IT Authorities Professional Services customer projects include:
Network design, configuration, implementation and installation of new hardware and software.
Network security and cyber security
On-site implementation and maintenance
Creating new environments to support hybrid, remote and in-person work spaces
Utilizing new hardware from Palo Alto and Cisco Meraki to support secure environments
Cloud solutions migrating infrastructure and systems to Azure and AWS
Implementing Intune Best Practices
Implementing end-point security for today's mobile work force
Defining and Implementing Intune solutions (Microsoft Endpoint Manager)
To schedule an assessment of your network requirements, contact us.
About Our Professional Services Team: Modernize your infrastructure for a more agile, reliable, and stress-free workplace.
Since 2006, our technology service professionals have been simplifying IT with proven methodologies that reduce risk and delays. With our guidance, you'll be able to choose the right technologies according to your organization's budget and needs. Contact our team to start seeing tangible results that align with your business priorities.
#ProfessionalServices #NetworkArchitecture #ITANetworkProtection #Microsoft #ManagedServices
#ITAuthorities is a #WidePoint company.
For a financial customer, IT Authorities and our partner, CyberSafe Solutions, deployed comprehensive managed services and implemented real-time continuous security monitoring services on a tight deadline
For a financial customer, IT Authorities and our partner, CyberSafe Solutions, deployed comprehensive managed services and implemented real-time continuous security monitoring services on a tight deadline