March 3, 2023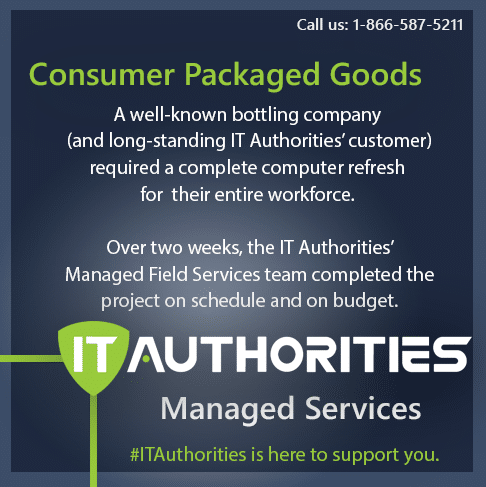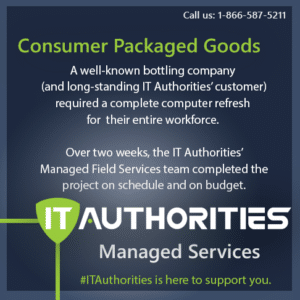 A well-known bottling company and longstanding IT Authorities' customer required a complete computer refresh for their entire workforce. Over two weeks, the IT Authorities' Managed Services team completed the project on schedule and on budget.
Customer Industry:  CPG
Customer Requirements:
Replace 750+ employee computers
IT field service, deployment and support for workforce
Multi-location staging
System migration for systems to ensure accessibility, software, standards, and corporate policies
Project Overview
IT Authorities Managed Field Services Solutions
IT Managed Field Services

Lead corporate hardware returns and new
computer deployments per established policies
Validate system and user capabilities
Work with customer liaisons to schedule
workforce deployments at multiple offices

Microsoft Intune
Compliance

Configure computers with software, policies, security protocols
Implement secure connectivity
Corporate asset tracking

Procurement Assistance

Review requirements and specifications for
750+ computers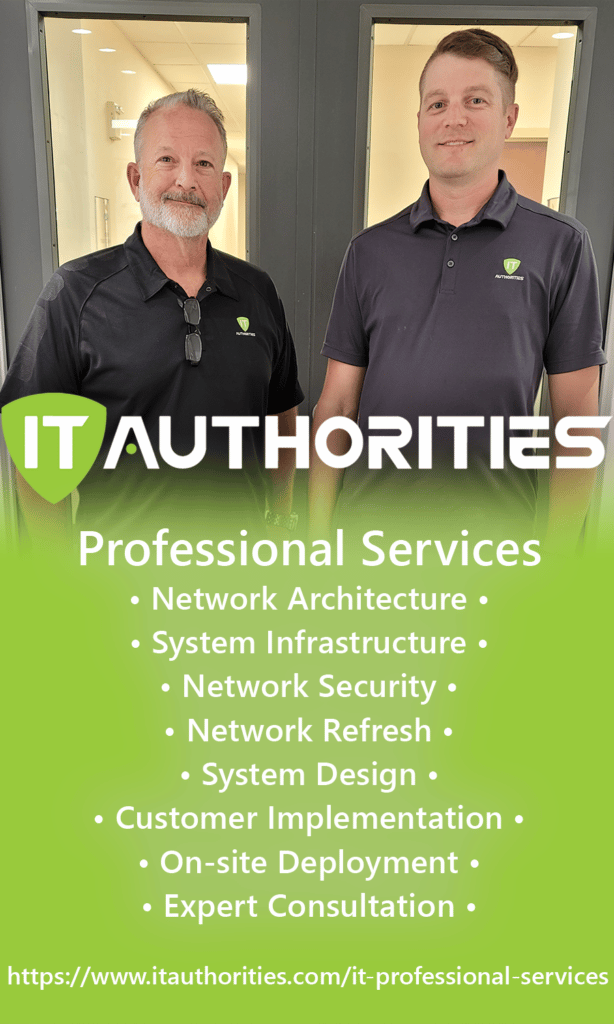 IT Authorities Professional Services customer projects include:
Network design, configuration, implementation and installation of new hardware and software.
Network security and cyber security
On-site implementation and maintenance
Creating new environments to support hybrid, remote and in-person work spaces
Utilizing new hardware from Palo Alto and Cisco Meraki to support secure environments
Cloud solutions migrating infrastructure and systems to Azure and AWS
Implementing Intune Best Practices
Implementing end-point security for today's mobile work force
Defining and Implementing Intune solutions (Microsoft Endpoint Manager)
To schedule an assessment of your network requirements, contact us.
About Our Professional Services Team: Modernize your infrastructure for a more agile, reliable, and stress-free workplace.
Since 2006, our technology service professionals have been simplifying IT with proven methodologies that reduce risk and delays. With our guidance, you'll be able to choose the right technologies according to your organization's budget and needs. Contact our team to start seeing tangible results that align with your business priorities.
#ProfessionalServices #NetworkArchitecture #ITANetworkProtection #Microsoft #ManagedServices
#ITAuthorities is a #WidePoint company.