February 10, 2023
A healthcare company was expanding their business by acquiring a new office. They were on a tight timeline that required an extensive infrastructure design with a complicated build-out. The IT Authorities' Professional Services team completed the project on schedule and on budget.
Customer Industry:  Health Care
Customer Requirements:
Client expansion to new office location
Comprehensive infrastructure planning and build-out
Worked with existing customer vendors and provided recommendations on potential geo-friendly vendors
Tight timeline on planning and build-out
Worked with contractor, architect and electrical engineers
IT Authorities completed project requirements on-time and on-budget
Project Overview
IT Authorities Professional Services Solutions
Infrastructure requirements, creation and oversight

Planning, approvals, installations

Server Room Design

Layout and efficiencies
Power and cooling requirements

Remote environment monitoring
Rack installation and power specifications

Network design

Created complete, scalable solutions for current and future requirements

Wireless network included predictive

pre-contruction and post-installation survey

report to validate implementation

Cloud Identity & Application

Building security

Worked with their customer vendors to implement camera systems and security access

System documentation

Comprehensive documentation process including installation diagrams, network diagrams, vendor contact information and support run book

Project Management

Dedicated project manager and industry expertise

Ongoing Support

Profile creation for all device types and ability to control devices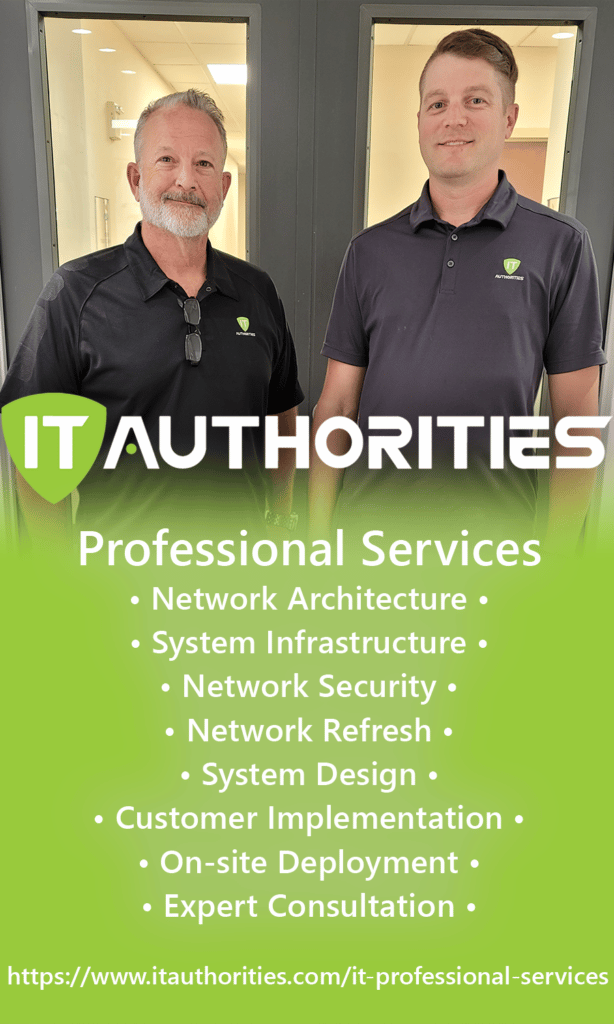 IT Authorities Professional Services customer projects include:
Network design, configuration, implementation and installation of new hardware and software.
Network security and cyber security
On-site implementation and maintenance
Creating new environments to support hybrid, remote and in-person work spaces
Utilizing new hardware from Palo Alto and Cisco Meraki to support secure environments
Cloud solutions migrating infrastructure and systems to Azure and AWS
Implementing Intune Best Practices
Implementing end-point security for today's mobile work force
Defining and Implementing Intune solutions (Microsoft Endpoint Manager)
To schedule an assessment of your network requirements, contact us.
About Our Professional Services Team: Modernize your infrastructure for a more agile, reliable, and stress-free workplace.
Since 2006, our technology service professionals have been simplifying IT with proven methodologies that reduce risk and delays. With our guidance, you'll be able to choose the right technologies according to your organization's budget and needs. Contact our team to start seeing tangible results that align with your business priorities.
#ProfessionalServices #NetworkArchitecture #ITANetworkProtection #Microsoft #ManagedServices
#ITAuthorities is a #WidePoint company.