Secure Identity & Access Managment
WidePoint Identity, Credential, and Access Management (ICAM) Solutions provide DoD ECA-grade PKI compliance ensuring maximum identity security
The trust behind your digital identity
Certificates & Credentials
WidePoint-ORC is a trusted government identity management partner, issuing U.S. Government authentication credentials since 1999. Our experience spans all facets of identity proofing, credential issuing and the underlying public key cryptographic technology.
WidePoint-ORC PIVotal ID credentials are issued to more than 18,000 unique companies including Fortune 500 companies, small businesses, colleges and universities, private & public research organizations, healthcare organizations, banks and financial institutions."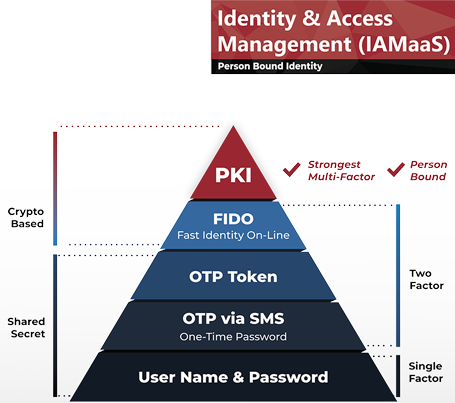 Is your organization facing any of these security challenges?
Why Choose WidePoint-ORC?
WidePoint-ORC is an elite provider of information assurance and authentication services for business-to-government, government-to-government, and citizen-to-government. We have operational experience in all facets of identity proofing, credential issuing and public key technology. We're beyond theoretical – We're operational.
Our flexible Common Identity Enabling Infrastructure (CIEI) enables enterprise and application owners to migrate toward a secure network identity model. Our CIEI provides seamless integration of four services:
Identity Management
Access Management
eAuthentication
Provisioning & Workflow
IT Authorities Project Gallery
IT Authorities maintains the highest-level certifications with many of the industry's leaders.
Contact us about our IT professional services
Planning and completing your project is simpler than you think.