Our Security Operations Center (SOC) as-a-Service is a comprehensive security solution designed to provide around-the-clock monitoring and management of your security systems.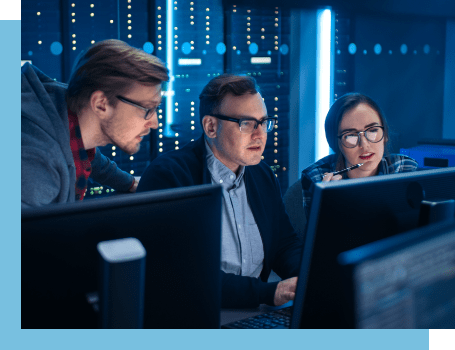 How SOC-as-a-Service Works
Trust IT Authorities to provide comprehensive, expert-led SOC-as-a-Service, tailored to your organization's unique needs. Protect your network, data, and reputation with our cutting-edge security solutions.
Continuous Monitoring: Our SOC constantly monitors your security systems, network traffic, and application logs, searching for any signs of suspicious or malicious activity. We use advanced tools and techniques, such as intrusion detection systems, behavioral analytics, and threat intelligence, to detect potential threats quickly.
Incident Response: When our SOC identifies a potential security threat, we immediately investigate the incident, determine its severity, and take appropriate actions to mitigate the threat. Our incident response process includes isolating affected systems, blocking malicious traffic, and restoring compromised data.
Threat Intelligence: Our SOC integrates threat intelligence from various sources, such as industry reports, vendor feeds, and global threat databases. We use this intelligence to stay up-to-date on the latest threats and vulnerabilities and improve our ability to detect and respond to potential security incidents.
Reporting and Analysis: Our SOC provides regular reports and analysis of your security environment, including incident summaries, security trends, and recommendations for improving your security posture. We help you understand your security landscape and make informed decisions to protect your network and data.
Compliance Management: Our SOC ensures that your security systems comply with industry standards and regulatory requirements, such as HIPAA, PCI-DSS, or GDPR. We help you meet compliance requirements, avoid potential fines or penalties, and protect your organization's reputation.
#SOC
#SecurityOperationsCenter
#SOC-as-a-Service
#IntelligentSecurityOperationsCenter
IT Authorities SOC-as-a-Service
Our SOC service replaces the complexity and expense of your in-house operations with our team of constantly-upskilling experts and our 24x7 monitoring and response platform.
Transitioning to an outsourced SOC overcomes the persistent challenges from limited budgets, shortages of skilled workers, the inability to be proactive, and constantly-evolving threat technologies.
Key Benefits of IT Authorities' Intelligent SOC
Adopting our Intelligent SOC-as-a-service is easy
If your organization wants to improve its security posture, reduce its liability exposure, and free up resources, get in touch so we can explain how simple the transition will be.