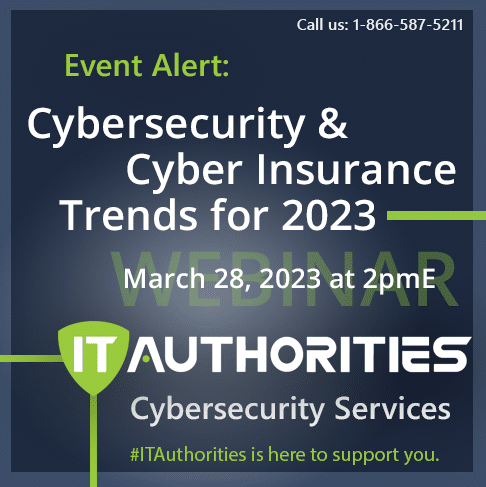 Event Date: March 28, 2023 at 2pmE
Register: Click to register
In this webinar, Gene Mobley, Sr Business Technology Advisor at IT Authorities and Gary Beechum, Chief Revenue Officer at Inovo InfoSec, will share the crucial cybersecurity measures your business needs to be fully secure this year.
Doug Kreitzberg, Founder/CEO of SeedPod Cyber, will share what to expect from the cyber insurance market and how to keep your business and clients secure and protected.
Join us to learn how to keep your company safe and protected!
Experience new levels of productivity with the support of an expert technology partner.
IT Authorities is a Managed Services Provider (MSP), a Managed Security Services Provider (MSSP), Cloud Service Provider (CSP) and a Cyber Security Services Provider in operation since 2006. We deploy solutions to clients with users ranging from 25 to 10k+ across a wide range of industries across North America.
To deliver reliable infrastructure management, cloud services, security, and 24/7 help desk support, we leverage the latest and most efficient solutions and best practices. These include DevOps, AI, and the Microsoft stack of technologies. Our goal is to improve the way you do business by helping you be more productive, agile, efficient, and secure.
Discover Identity & Access Management
Certificates & Credentials
WidePoint-ORC is a trusted government identity management partner, issuing U.S. Government authentication credentials since 1999. Our experience spans all facets of identity proofing, credential issuing and the underlying public key cryptographic technology.
WidePoint-ORC PIVotal ID credentials are issued to more than 18,000 unique companies including Fortune 500 companies, small businesses, colleges and universities, private & public research organizations, healthcare organizations, banks and financial institutions."
IT Authorities Professional Services
Network design, configuration, implementation and installation of new hardware and software.
Network architecture
System infrastructure
Network security and cyber security
Network refresh
On-site implementation and maintenance
Creating new environments to support hybrid, remote and in-person work spaces
Utilizing new hardware from Palo Alto and Cisco Meraki to support secure environments
Email migrations to O365
Cloud solutions migrating infrastructure and systems to Azure and AWS
Implementing Intune Best Practices
Implementing end-point security for today's mobile work force
Defining and Implementing Intune solutions (Microsoft Endpoint Manager)
Client outcomes: our most important metric